Welcome to XRAY, your strategic communications development and transmission partner... with vision!
Our team assists organizations of various size and specialization define, develop, and transmit effective messages efficiently.
We operate as an extension of our clients' core team, paying attention to their specific goals and objectives. We then manage our team of highly specialized and experienced talent to produce top quality results that achieve our clients' goals and objectives, on budget and on time.

Question:

What's in the name?



Answer:

The XRAY name was inspired from a number of sources.
Technically speaking, the XRAY name parallels our power and method to that of an x-ray device which accelerates electrons in order to collide with a target. We accelerate your business and deliver communications that are focused on target.
'x'
also represents our ability to vary focal points, intensity and direction based on our your changing goals and objectives.
In short, we are your personal modern communications 'x-ray device' that can be directed inward to look into the heart of a specific problem and/or outward to transmit valuable messages to your audience.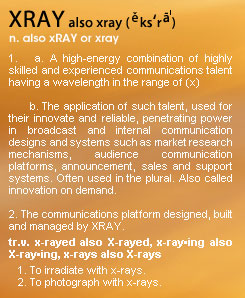 FEATURED WORK

Yellow Brick House provides emergency shelter, counselling and education for women and their children...
| Visit Website | View Showroom |